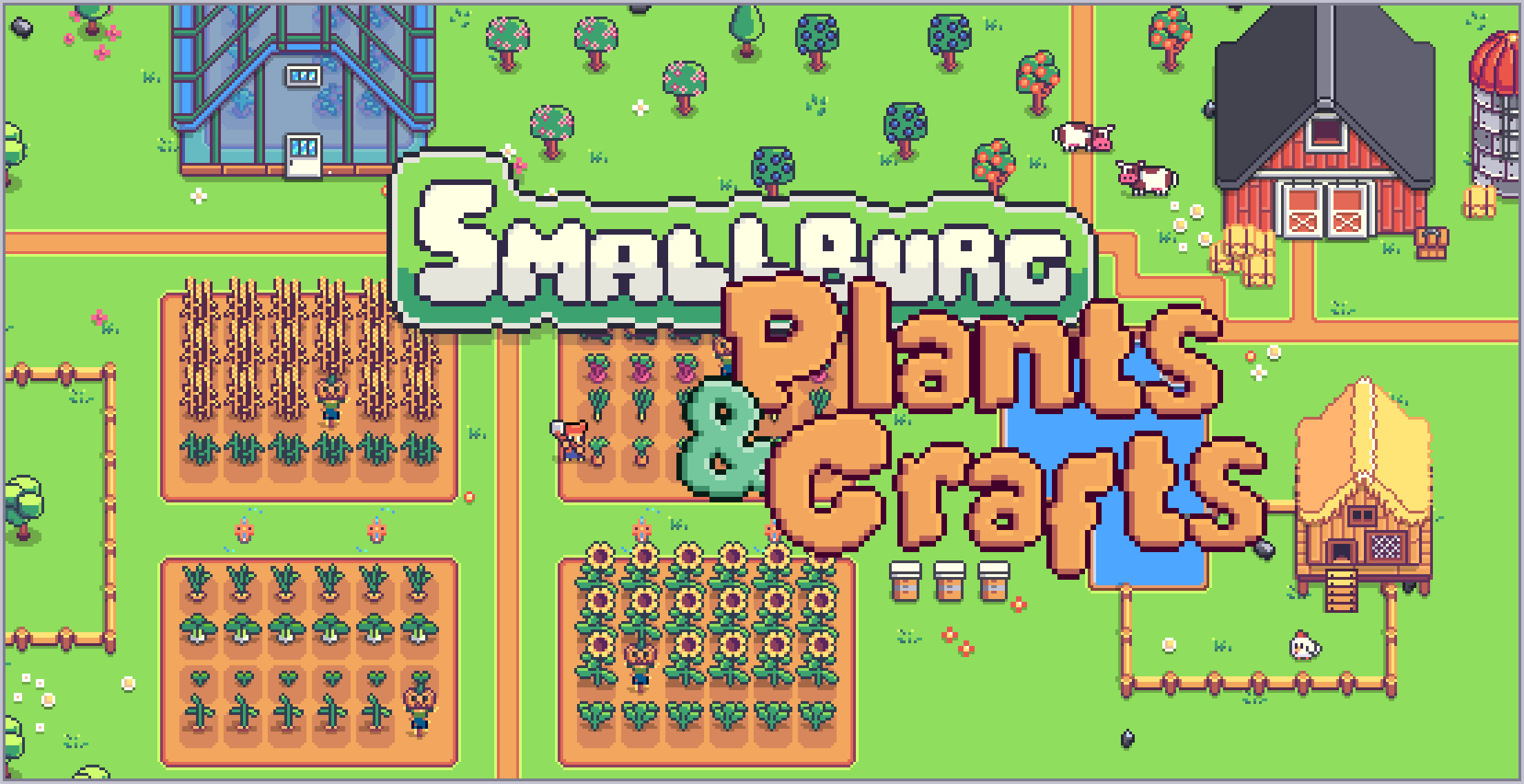 SmallBurg - Plants & Crafting Pack
A downloadable Smallburg Farm & Craft
Get this Smallburg Farm & Craft and 3 more for $10.00 USD
View bundle
Welcome to the Smallburg Crafting Pack
This is a simple 16x16 bit bubble gum colored crafting pack to extend the Smallburg Village pack. But it can be used as a stand alone.
Plant * Mine * Farm * Raise Animals
Currently this pack contains :
Farm Crops & Animals

Dozens of crops
Chicken, Cow, pig and their produce

Gathering Animations (Shovel, Hoe, Water Can)

Mining & Smelting

Crystals & Ores
Furnaces and smelted produce from ore

Mining animations (pickaxe)

Character

Clothing apparel
Several hairstyles
This pack is done for all matters, but I keep adding stuff to it every month. Check the roadmap below for more details.
Mining & Smelting
The last update added furnace animations and smelted bars for creating items from harvested ore from mining.
The fire bellows can be removed from the furnaces if you want.
4 Directional pickaxe animations for all your mining needs.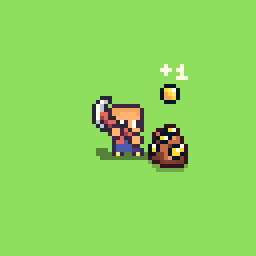 Clothing and hairstyles also updated for the animation

The pack contains several gems and ores.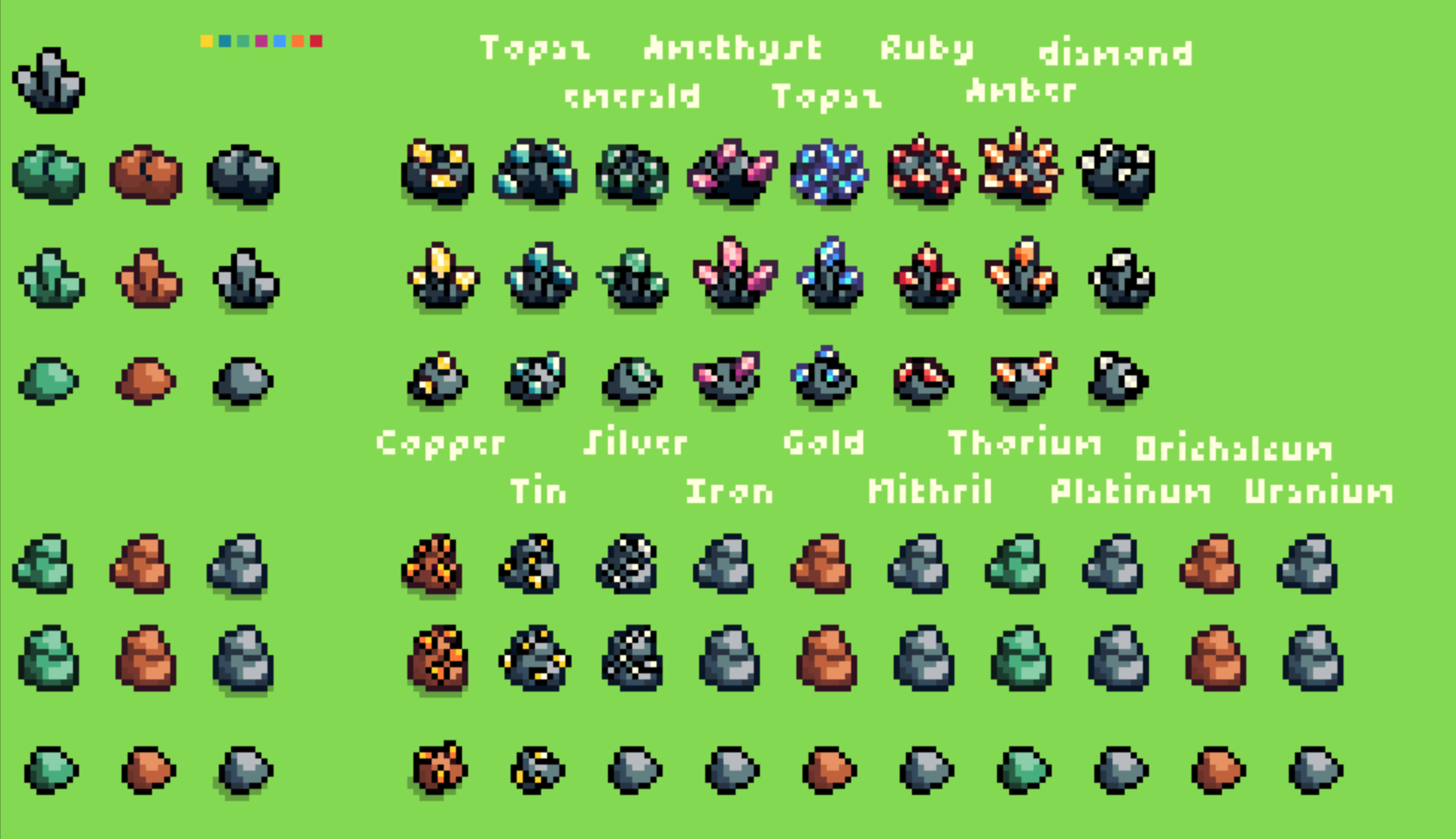 Gems
Citrine
Aquamarine
Emerald
Amethyst
Topaz
Ruby
Amber
Diamond
Ores
Coal
Copper
Tin
Silver
Iron
Gold
Mithril
Thorium
Platinum
Orichalcum
Uranium
Farming
This was the base of the pack, so there is a lot already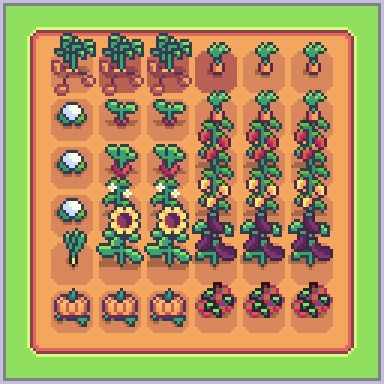 From Po-ta-toes to sunflowers, pumpkins and lot's more. See the full items bellow. From seed to fully ready to be harvested to turn bad.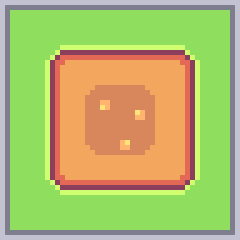 For all of these crops!!!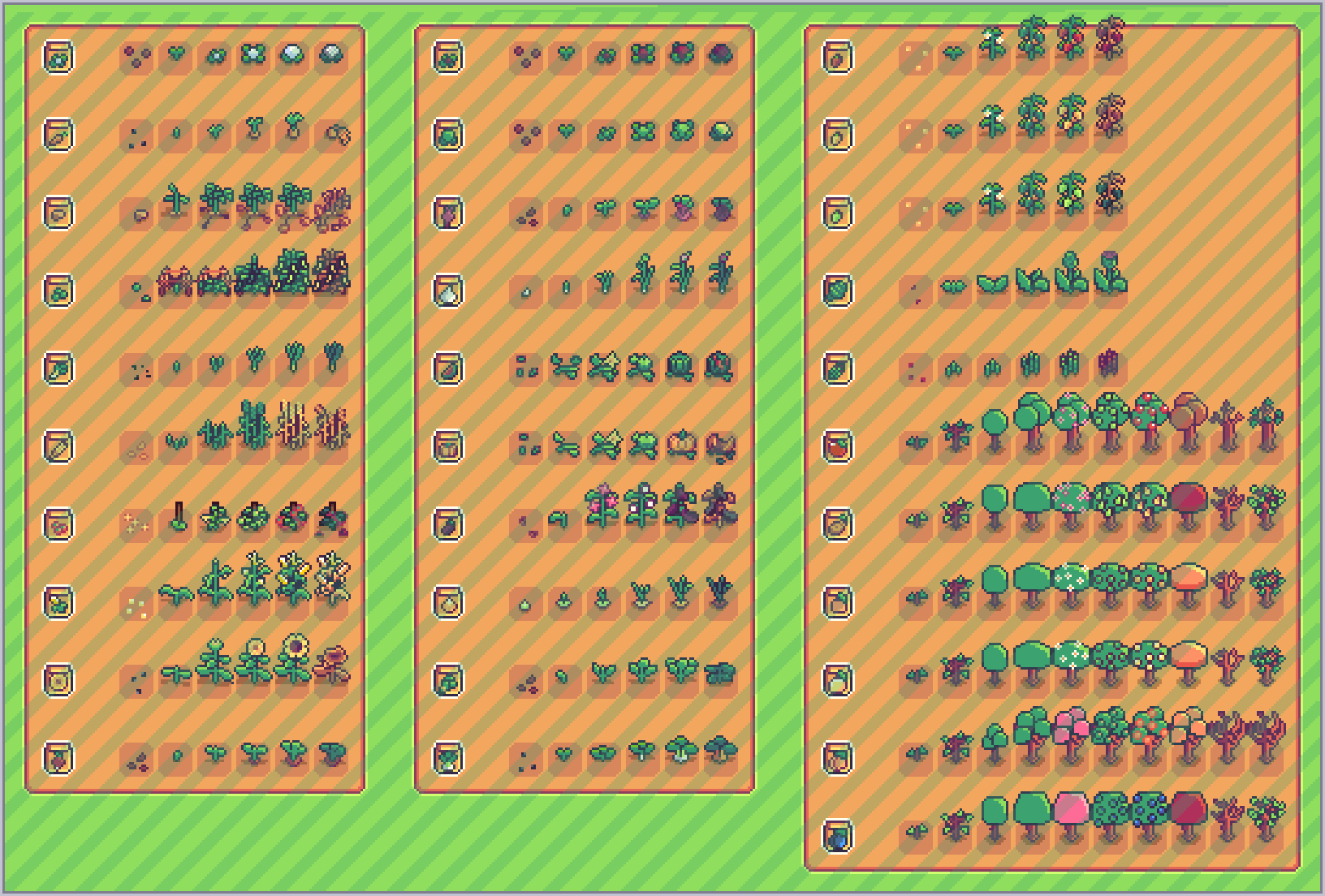 There is also the produce for each of the crops.


Character Animations
Three Tool animations all in for directions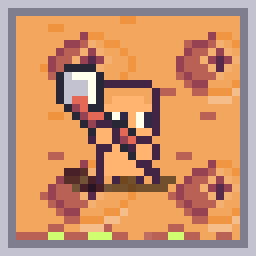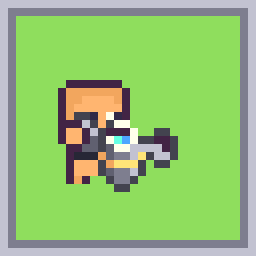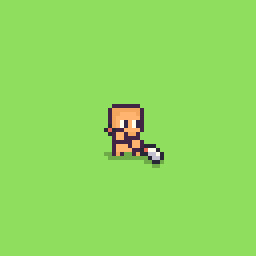 Animals
No farm is complete without animals and Smallburg Farm has three, the staple in any farm.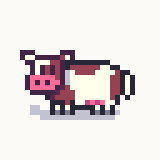 All with 4 direction animations for walking and and side idle animations.
All animals have baby versions of them.


And different colors.

All with its own produce.

Farm Buildings
The farm comes with some prebuilt farm buildings.
All built with the housing system of Smalburg.
Housing System Add-ons
Added more house options for farm houses and barns. As well as a greenhouse and straw roof options. Lots of new items for building houses.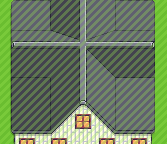 Extra farm items
Box to sell your crops
Scarecrow
Animated Sprinklers
Beehives
Fences
and more...
Roadmap
Currently the mining update is done and the smelting update is being worked on. Below you can find the updates after.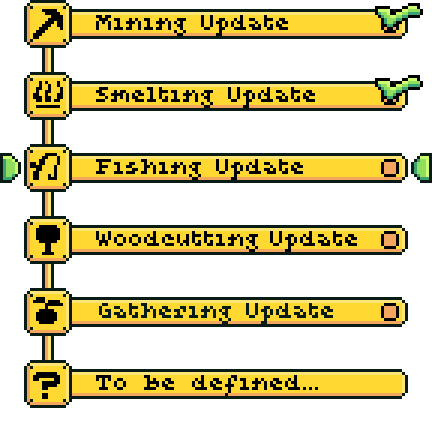 Commercial License
By using the commercial license you are allowed to use this pack on any commercial project you desire, any number of times. One license for several commercial projects.
You are allowed to edit the assets, for commercial usage.
You cannot redistribute or re-sell any of the assets of this pack or change the assets for reselling as your own art or NFTs.
Credit is not required but appreciated.
If you use this asset pack on several different projects, it would be great if you buy one extra license for each new commercial project, but that is not required, just highly appreciated. A link to your work would be appreciated as well.
Other Smallburg Packs
| | |
| --- | --- |
| | Village pack - the base of it all, Idle, walk, Run and Jump animations, clothing and the housing system. |
Purchase
Get this Smallburg Farm & Craft and 3 more for $10.00 USD
View bundle
In order to download this Smallburg Farm & Craft you must purchase it at or above the minimum price of $3.99 USD. You will get access to the following files:
SmallBurg_farm_pack_v2.2.zip
Comments
Log in with itch.io to leave a comment.
Hello, I found that there seems to be no corresponding Clothing file under the shovel folder
Yes! You are correct. The shovel animation was created last week on an uupdate for the pack. I didn't have time to finish the clothing yet. I'll add it in this week update.
您好,这个包将来会有与树木砍伐和采矿相关的动画吗?
hi! are you planning on releaasing a free version of this? like a free license?
Hey. Sorry this may sound like a stupid question but do you have the names for the crops? Even though I grew up rural and did work in the farm as a country boy, I still cannot recognise some of the crops :p
Of course I can recognise carrots, cauliflower, pumpkin etc. but a complete list of what is what would be awesome. If you can include a basic TXT file or describe in the PNG file in examples folder...
Great pack by the way!
Yeah. I can't do it right now. But I'll update it today. I'll add an image with all the crop names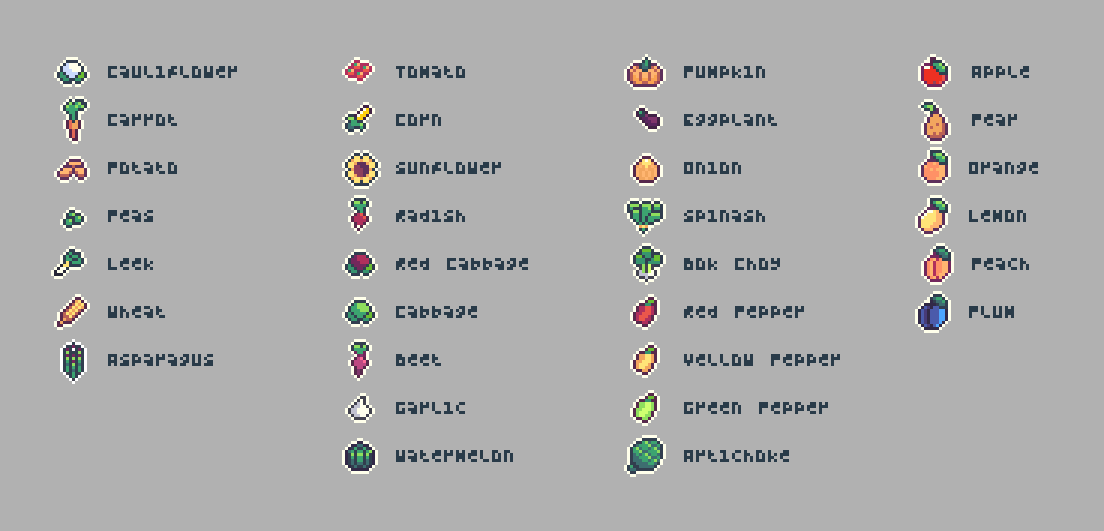 Sorry for the delay. Hope this helps!

We can make trading cards with this pack right? NOT NFTs but Trading cards
Yes. Any game is fair as long as it's not using art to sell nfts.
In this case you are using the art in the cards.
This really is coming together to be something special.
Amazing! This is well beyond what I was seeing in my mind. You did a great job on this asset pack and I look forward to seeing you with the most expanded pixel art pack on Itch. Most people try to fake depth but your pack actually has depth. Thank you for your hard work.
Thank you. I try to add the most amount of value that I believe people are searching.
I am always updating the packs when I see something that could improve the pack.
It really means a lot to me when I see good feedback from my efforts. It means that the pack have value to you guys.